Gojek 4.1.1 APK
Download Gojek 4.1.1.apk APK BLACK files version 4.1.1 com.gojek.app Size is 98538267 md5 is 7725d1fa58159b819bd69380053d1456 Updated In 2020-08-06 By PT GO-JEK INDONESIA This Version Need Lollipop 5.0 API level 21 or higher, We Index 3 Version From this file.Version code 4011 equal Version 4.1.1 .You can Find More info by Search com.gojek.app On Google.If Your Search gojek,travel,local Will Find More like com.gojek.app,Gojek 4.1.1 Downloaded 588 Time And All Gojek App Downloaded 1212583 Time.
Comid:com.gojek.app
Keywords:gojek,travel,local
Version: 4.1.1 (4011 code)
Dev: PT GO-JEK INDONESIA
Requirement: Lollipop 5.0 API level 21 or higher
Updated: 2020-08-06
size: 93.97 MB (98538267 Byte)
MD5: 7725d1fa58159b819bd69380053d1456
Cpu: x86,x86-64,armeabi,armeabi-v7a,arm64-v8a,mips
Screen: SMALL
Description of Gojek com.gojek.app
Better rides coming your way. Whether you're looking to get across town, or even earning on the road, choose Gojek – we're the city's latest ride-hailing app dedicated to making your commutes all that much better.
Gojek 4.1.1 News
HOME 4.0 *soft guitar plays in G major* *attempts to sound like Michael Bublé* Another release day Has come and gone away A new Gojek home But you love the old home (Mm) Sleeker, and neater too Closer to thumbs, but you Said it's buggy and slow You still love the old home (U miss it, I know) You've been keeping all the promises I tell you: "I will fix this soon, you'll see" Please believe and stay with me Gojek new hoOoOme I've fixed the bugs, and other things inside Update and come home
Download
4B:FC:5F:D2:DA:FE:96:8A:5D:F2:43:25:4A:DE:D6:C7:46:81:30:98
CN=Gojek
Screenshot Gojek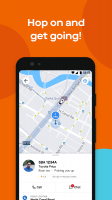 Other Gojek APK Versions For Android